The Marketing r/Evolution
The marketing r/Evolution is here! There's no denying the marketing strategy terrain is ever-changing. Over the last 18 months, these changes have been fast-tracked. The pandemic has forced social and economic turbulence on us both professionally and personally. These changes have spurred business owners to adopt new avenues to make contact with consumers. Cue the need for each and every business to up the ante and consider the power of integrated marketing efforts to pave the way forward.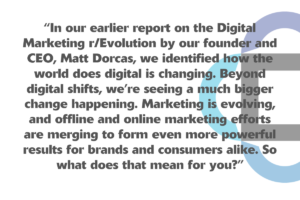 Capacity Marketing has seen economic changes across the Northeast region through countless hours of research and time-honored experience. We've done our sleuthing and evaluated marketing trends both digital and direct, and we're excited for the changes we're seeing! This metamorphosis has left some businesses reeling; unsure of what next steps to take, or even where to focus their marketing budget, the right path can seem daunting. These shifts in marketing tactics and strategies now require a more inclusive, more fluid approach.
This shift isn't entirely digital. There is a lot of digital noise to cut through, so linking offline efforts to more trackable online engagements have helped the smartest brands grow. This is called omnichannel marketing. "Omni" is rooted in the Latin "Omnis," meaning all or every. Therefore, omnichannel suggests the integration of all offline channels and online (digital) channels to offer a unified customer experience. The most effective brands have been migrating to this marketing tactic for the past decade. 
"Did you know that companies with omnichannel customer engagement strategies retain on average 89% of their customers?  This is compared to a 33% customer retention rate for companies with weak omnichannel strategies." (Invesp)
The Power of Integrated Marketing
Cross-channel marketing, integrated marketing, or omnichannel marketing. It goes by many names, and it is a powerful strategy when implemented properly. Integrated marketing is a strategy for delivering a unified, overarching message across all of your brand's marketing channels. It allows for a seamless, multi-dimensional experience across all your brand's touchpoints. This means that each branding effort – across television, radio, print, Internet, and in-person – is presented in a similar style that reinforces the brand's ultimate message. 
Integrated marketing is very different from multi-channel marketing which is marketing across different channels with different strategies and/or messaging. Multi-channel marketing is not unified or and does not present an overarching message. 
See the retail example of integrated or omnichannel marketing below from V12 Data.

How Integrated Marketing Works
Integrated marketing works by driving all aspects of a marketing campaign through a variety of channels towards the same goal. By ensuring messaging is cohesive and consistent, and customized when possible, brands are seeing better results than ever before. The power comes from the ability to tie all the different pieces together, nurturing customers throughout their journey and utilizing remarketing as one of the tactics to help people move down the sales funnel.
An integrated marketing effort may include direct mail postcards with strong images and messaging. There may be a digital element on the back of the postcard with a QR code, pURL, or other digital personalization which leads the consumer to a website landing page or video presentation. An integrated marketing effort also includes taking that same messaging and images and sharing them online through social media, display ads, and engaging content that supports the core message and strategy in driving your audience towards the goal. 
They say the proof is in the pudding, so let's take a look at some of the statistics that make integrated marketing so powerful. Here are some more statistics compiled by V12 Data that may convince you of the effectiveness of a truly integrated marketing strategy: 
Pretty powerful evidence, and there's more to come! How does an integrated marketing strategy impact your brand's development? What strategies and tactics should you use to reach your target market? How do you ensure all your marketing channels work together for the best synergy? Answering these questions is critical to your success. Stay tuned for the next blog in our integrated marketing series and be sure to download the full whitepaper here.