Mission/Objective
San Miguel Academy of Newburgh is on a mission to educate and empower young men of the City of Newburgh, NY, so they may break the cycle of poverty, achieve new potential, and embrace lives of purpose, faith, and truth. San Miguel approached us to identify how to better target donors and attract additional benefactors. Part of San Miguel's growth required a branding update to better communicate their mission in the community, including both the logo and website. Additionally, San Miguel was interested in an organized Capital Campaign to attract donations specifically for their school expansion and renovation project.
Market Research 
Our first mission was to conduct thorough research of San Miguel's donor pool, industry, competition, market trends, and consumer psychographics. Additionally, our overarching goal was to become experts in motivating donors to give.
We noticed philanthropic market trends require an investigation of multiple generations' perspectives and the various marketing channels they utilize. Each generation has a unique makeup that predicts their spending trends. For example, of the $358 billion Americans donated in 2014, 14% came from foundation grants, 5% from corporations, and 81% came from the average individual. There is a spike in donations when individuals reach the ages of 61-75 with 77% of households donating compared to the 60% from a household of 26-45-year-olds. 
There are also major donation differences within city limits as well; in American cities where individuals have differing incomes, generosity flourishes. Cities with 40% of residents making $200,000 a year give 2.5% of discretionary income while more mixed neighborhoods give closer to 5%. We used this information to geographically target where San Miguel would receive the most donations. 
A psychographic that also drove the research were donors' concerns over financial efficiency. It boils down to "where is my money going and will it be put to good use?"  98% of donors utilize an organization's websites to determine their donation numbers. Therefore, the website takes priority over any video or social media platform to communicate financial efficiency. 
Our research allowed us to examine San Miguel's brand to ensure it is eye-catching and exemplifies the mission of the academy against industry standards and patterns. This included examining the logo, website structure and design, taglines, and any other marketing materials. Our goal during the branding research was to create an identity for San Miguel that would be memorable, evoke school pride, and communicate the courage of the school's staff and students.   
Deliverables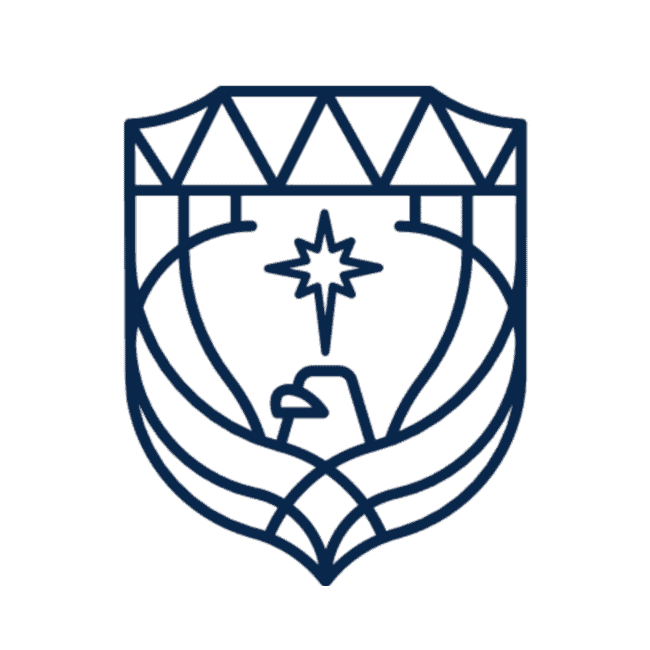 Logo
The logo for San Miguel Academy has specific imagery of importance to the school: a cross to signify dedication to faith, a bridge to signify an environment of student prosperity, and an eagle, the embodiment of truth, freedom, and honesty. 
Brochure 
Our research indicated that powerful stories, student experiences, and evidence of donor impact drive charitable revenue for an organization like San Miguel Academy.  
Capacity marketing combined these stories, along with powerful graphic content to create a brochure, which can be used as new media or physical collateral. Framed by San Miguel Academy's history of accomplishments and positive impact on student lives, the proposed renovation project and its promise of future success create a strong call to action for potential donors.
Website Design & Development 
A homepage mockup was designed to initiate donations for a complete overhaul of the San Miguel website. The new logo and brand identity echoes throughout our design choices. 
Marketing Campaign 
Initiating a Capital Campaign in the non-profit sector involves strategy. According to industry standards, we defined a two-phase strategy approach to raise funds for San Miguel Academy's renovation and expansion. The initial Quiet Phase primarily focuses on major benefactors, who statistically satisfy 50-70% of Capital Campaign funding. The second phase culminates in a community event introducing the Capital Campaign to the public, who will be galvanized by the success of the previous phase to meet final fundraising goals.
Results
San Miguel's Capital Campaign funding is well underway thanks to the strategies and collateral Capacity created. Due to the global health crisis of 2020, San Miguel could not complete their web project and rebrand. We continue to support their school and monitor their marketing in an effort to one day team up again. 
Services